There's something very old school and it brings to mind the great Escoffier when I think of the phrase "Chefs signature dish".It might seem like a chefs vanity but in most cases they are vital to almost every restaurant, and customers tend to seek them out.
Wikipedia states, "A signature dish is a recipe that identifies an individual chef. Ideally it should be unique and allow an informed gastronome to name the chef in a blind tasting. It can be thought of as the culinary equivalent of an artist finding their own style, or an author finding their own voice. In practice a chef's signature dish often changes with time or they may claim several signature dishes."
A few years ago I was flicking through a magazine while travelling on a plane back to Mallorca from Moscow when I came across a recipe of one of my signature dishes. The "Roasted Sea Bass with anchovy, parsley & liquorice" was printed exactly as I had written it for an international website called Global chefs. The only difference was the picture of the smiley chef next to the recipe looked nothing like me and was in fact a French Chef from a famous Moscow hotel claiming the dish to be his own. I found it mildly amusing at first, but slowly it niggled at me and bothered me enough to email the chef to ask if there had been some sort of mistake. He denied using my recipe at first before confessing and claiming that he is a huge admirer of my work and I should be proud of the fact that he liked the recipe so much he put it on his menu. So is copying is the best form of flattery?
All this started a small debate about when culinary influence and inspiration become imitation and the intellectual property of chefs. You see, for me there is a deep thought process that one goes through when you are trying to create a new dish. Sometimes, things fall into place very quickly, but occasionally it's a long, laborious task of mixing flavours & ingredients until you find the right blend and inspiration strikes you.
One of the most copied recipes in the world is a signature dish from Michel Bras. In 1981, he claims to have created the chocolate coulant – a chocolate cake with a warm liquid interior, often called fondant. He even applied for a patent for his creation, which has been subsequently copied all around the world and I think even McDonalds have something very similar on their menu these days.
So should chefs have the right to copy and pass off another chef's dishes as their own? It's a difficult question. I know that all chefs are magpies and take ideas and inspiration from one another, particularly their mentors. I also realise that it is impossible to reinvent the wheel and be totally unique. That said, I do think it's a little sad when some choose to copy rather than create their own individual styles. Brillat-Savarin, one of the world's first true gastronomes said, «The discovery of a new dish confers more happiness on humanity, than the discovery of a new star » and to that end, I believe we chefs all have a duty to at least try. The great French chef Jacques Maximim was once asked 'What is creativity?' Maximin replied, 'To not copy.' And that for most Chefs is the hardest thing.
This recipe is one of my signature desserts and I've seen it been copied (badly) in several restaurants over the years: Caramelised pineapple and ginger lasagne with a coconut sorbet and a white pepper -toffee sauce.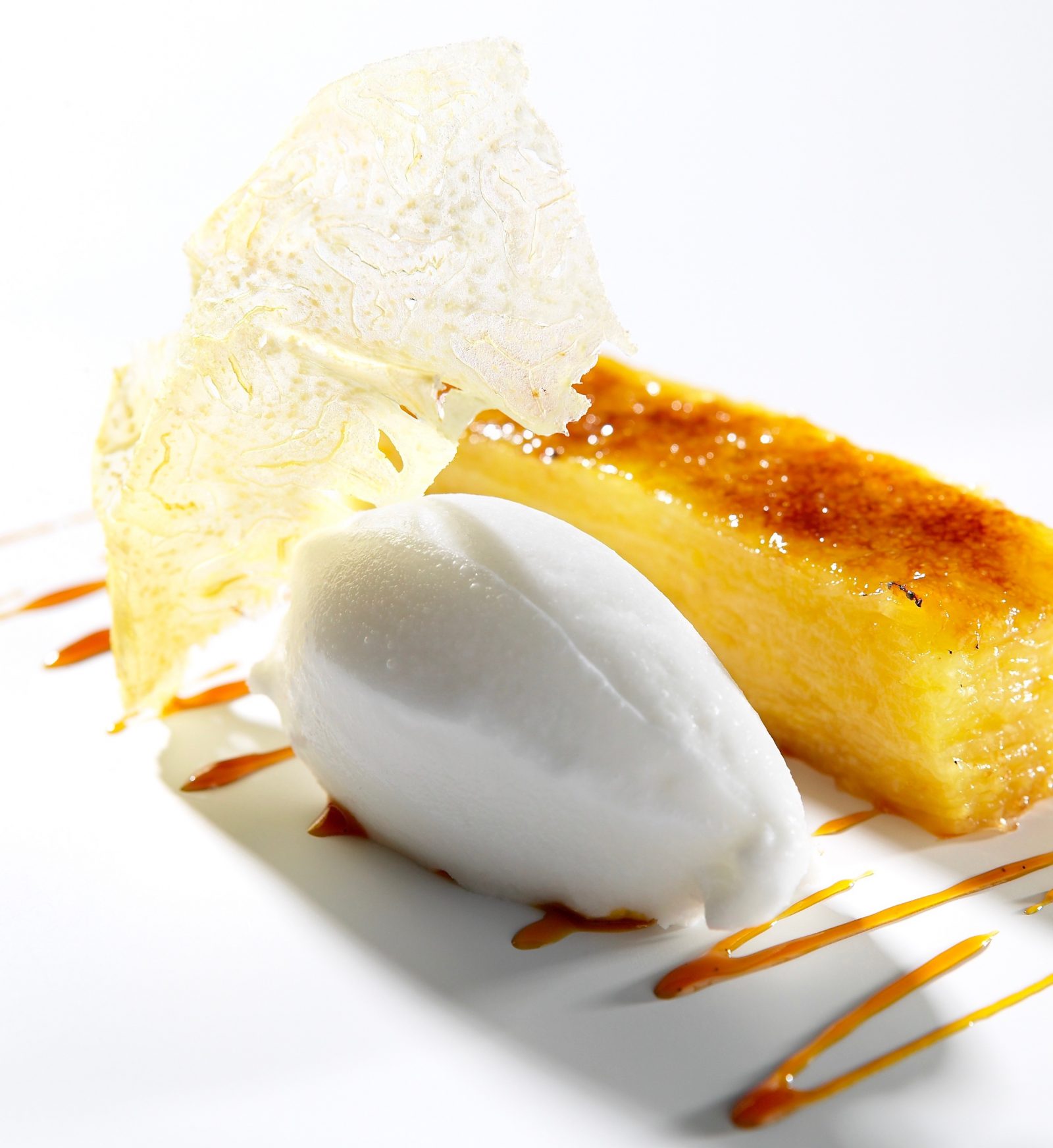 Ingredients: serves 8
For the lasagne:
2 large pineapples (extra sweet)
75g fresh ginger (grated)
100g icing sugar
30g brown sugar
For the toffee sauce:
200g sugar
50ml water
100ml cream
75ml pineapple juice
1tbsp. Crushed white peppercorns
For the sorbet:
750ml coconut puree
100ml coconut liquor
50ml water
50g sugar
For the pineapple crisp:
8 wafer thin slices of pineapple
100ml sugar syrup
For the lasagne:
Slice the pineapples thinly with the help of a meat slicer. Place them in a large bowl and add the icing sugar and grated ginger. Mix the ingredients together and let them stand for 10 minutes.
Layer the pineapple slices in a small, deep-sided baking tray. Sprinkle with brown sugar and bake in a hot oven (gas7/180ºc) for about 20 minutes. Remove from the oven and place a piece of greaseproof paper over the lasagne, place another baking tray on top and place a weight on top of the tray to press the lasagne. Chill for at least 12 hours.
For the toffee sauce:
Bring to the boil the water, sugar and white peppercorns in a heavy-bottomed pan. Cook until the caramel reaches a light dark brown colour.
Remove from the heat and carefully add the cream, whisking all the time. Sir in the pineapple juice, then pass the sauce through a fine sieve.
For the sorbet:
Bring to the boil all the ingredients and pass through a fine sieve.
Place in an ice-cream machine and churn until thick and smooth.
For the crispy pineapple:
Bring the sugar syrup to the boil and pour over the pineapple slices.
Leave to go cold and lay out the slices on a baking sheet. (silpat)
Place in a very low oven (gas2/90ºc) to dry out for at least 3-4 hours.
To serve:
Slice the lasagne in to portions and place in a moderate oven to warm through. Remove and caramelise the top under a very hot grill or using a gas gun. Garnish the serving plates with the toffee sauce and place the caramelised lasagne on one side and a scoop of coconut sorbet on the other. Top with a dried coconut slice and serve.